2021 Toyota C-HR

2021 Toyota C-HR
The C-HR was designed as a one-of-a-kind car that stands out from the crowd. The 2021 C-HR is outrageously loud, sporty, and sophisticated in design, which is exactly how Toyota loves it. Although the engine seems to take a long time to start, the good fuel economy makes up for it. This SUV has a futuristic design and contains all the modern functions that today's driver needs. Expect it to be the perfect vehicle for a breathtaking ride down every mile.
Trims that are Available at Beaman Toyota:
Four trim levels are available for the 2021 Toyota C-HR:
Limited
LE
XLE
Nightshade
Customers should pick the XLE over the LE because there isn't much of a pricing difference between the two trims. The additional cost is well worth it given the number of features offered. The 2021 Toyota C-HR competes in its segment against the Nissan Kicks, Honda HR-V, and Hyundai Venue. The only possible drivetrain for this vehicle is FWD (Front-Wheel-Drive).

Exterior Appearance:
This compact SUV combines cost and fuel efficiency in an elegant package. The headlights are positioned on top of the fenders, giving them a unique look. Buyers will find the Toyota logo featured prominently on the grille. 18-inch alloy wheels, LE-Trim has smaller 17-inch alloy wheels. A characteristic line that is visible to the buyer runs from the top of the headlight to the rear of the vehicle. The signals are built into the side mirrors. For a unique design, the rear door handles have been placed on the windows. On the 2021 Toyota C-HR, massive bumps can be seen on the fenders. The vehicle's taillights appear to be on the outside and point to the side. The C-HR seems to have two spoilers at the stern. Toyota seems to give this vehicle a great wild treatment.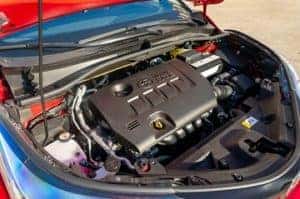 Specifications of the Engine:
The 2021 Toyota C-HR is powered by a 2.0 liter naturally aspirated engine that produces 144 horsepower and 139 lbs.-ft of torque and is mated to a CVT (Continuously Variable Transmission). It takes 11 relaxed seconds to recharge from 0 to 60 mph. Customers who drive in cities will appreciate the engine's responsiveness. Expect a combined fuel efficiency of 29 MPG from this compact SUV.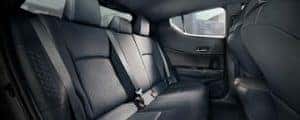 Interior Appearance:
It's worth noting that, while the C-HR appears to be wild and chaotic on the outside, it's quite elegant on the inside. The interior trim is quite good, and it continues all the way down the dashboard. Here's a list of the features that are found inside the 2021 Toyota C-HR:
Cup Holders in Doors
Decent Legroom and Headroom in Rear Seat
Hard Plastic in Door Panels
1 Cubic Foot of Rear Cargo Space
Soft Touch Dashboard
0-inch Touchscreen Infotainment System
Adequate Legroom and Headroom in Driver's Seat
Dual Climate Control
Manually Adjustable and Reasonably Comfortable Front Seats
USB Port
2 Cup Holders
Large Armrest Console
Small Digital Display on Instrument Cluster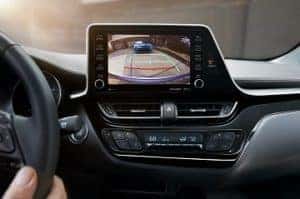 Safety Features:
Toyota's Safety Sense 2.0 Active Safety System here includes features like:
Traffic Sign Recognition
Lane Keeping Assist with Road Edge Detection
Adaptive Cruise Control with Lane Trace Assist
Automated Emergency Braking with Pedestrian Detection
For more information on the 2021 Toyota C-HR available at Beaman Toyota, visit their website: https://www.beamantoyota.com/toyota-c-hr-in-nashville-tn/